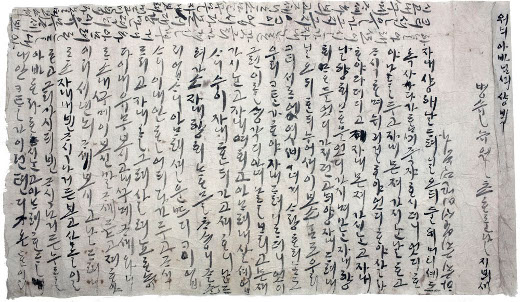 There is a popular and often-repeated notion that romantic love is a modern invention of the Western world. Writer after writer will explain to us that only in the last couple of hundred years have we had this idea of being totally devoted to another human being; before that it was all practicality and contracts. It's a cynical view that ignores thousands of years of evidence to the contrary. So how, then to explain this: an incredible letter found on the chest of a mummified man in South Korea. Written in 1586, the letter is a heartwrenching plea from his pregnant widow, trying desperately to understand how to go on without him.
"How did you bring your heart to me and how did I bring my heart to you?
Whenever we lay down together you always told me, 'Dear, do other people
cherish and love each other like we do? Are they really like us?' How
could you leave all that behind and go ahead of me? . . .

"When I give birth to the child in me, who should it call father? Can
anyone fathom how I feel? There is no tragedy like this under the sky."
To read the full letter, go to the amazing site Letters of Note. And then tell me love is a modern, Western invention.