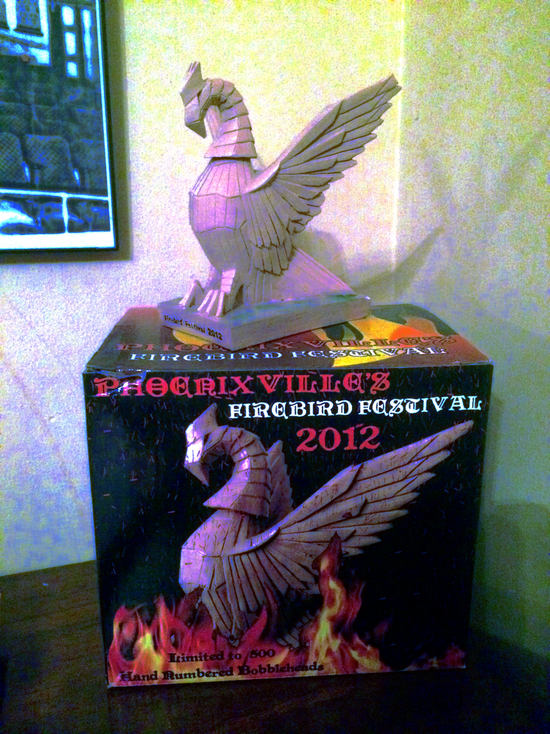 Spent the weekend checking out towns to live in. After a dreamy weekend of touring around, enjoying restaurants, cafes, and even the movie theater, we're writing Phoenixville's name all over our notebook, in colored ballpoint with heavy outlines.
 For one thing, the town is essentially Bedford Falls. It has a library that looks like a library, a post office that looks like a post office. It has a busy little downtown of shops and restaurants. It has a wonderful classic movie theater that features first-run and classic movies and live performances. It has a handful of coffee shops and galleries and another performance space. We don't even have a dog and we're in love with that fact that, up in Reservoir Park, it has Reservoir Dogs Park. (Not many municipally sponsored Tarantino references in the world.)
 It has an annual festival to celebrate the fact that a classic (and yet, really not good) movie, "The Blob," was filmed there, with scenes in that very theater. It has another festival where they set fire to a giant wooden phoenix. There's a farmer's market (that no doubt can't touch the incredible one in Troy) and street fairs. There's a nice little True Value hardware store.
 My better half became the friend-maker, going up to random people (dog owners are great for this) and telling them we were thinking of moving there and asking them what they thought of the town. There wasn't anyone who didn't actually love it there.
 The challenge in leaving Albany housing for a metro area is, of course, price. Inexpensive houses in a nice neighborhood, with nice yards full of black raspberries, near a lake and seven minutes from downtown, those are things that do not exist in greater Philadelphia. Even 45 minutes out of the city, it's challenging to find an affordable single family home (the area is filled with something called "twins," where you share a wall and the risk of horrifying modifications to the other side of the house with someone you don't know). Our house is no palace, but it has new windows, new heat and central air, a window in every room, an attached garage, a three-season porch: these are things that will cost about $120,000 more where we're looking. Ouch.
 But, we're thrilled to have found the town we want to live in. So, Phoenixville ho!