I suppose there are gentler ways to introduce your children to adulthood. It wasn't that I wanted to leave their childhood home, the only home they'd ever known, taking away their rooms and the deeply comforting knowledge that they'd always have a place to come back to. (I mean that in theory, only; in reality, I want them to fend for themselves.) But an opportunity to remain employed came along, and off we went.
And I knew that at some point our enjoyment of the new empty nest would have to irritate them at least at some level. No longer tied to the school schedule, the ballet schedule, the Nutcracker rehearsal schedule, we could go out and do things. Sometimes on weeknights. And in our new town, there would actually be things to do. On weeknights! Imagine that.
But there was no sense in easing them into this, right? So why not pile it all on, and go to see one of their absolute favorite musical icons, without them (because there was no way to get them here), in a great intimate setting, on a school night? Okay, it was a little cruel that we never told them it was happening. At first, to be sure, it was about the whining. We knew there would be a deep desire to somehow get down to the City of Brotherly Love and take in the show, and we knew it was impossible, logistically and financially, to make that happen for both of them. There was a point at which we meant to say something about it, and then honestly we kept forgetting it was even coming up. So we announced it the way one announces all bad news these days: through a Facebook check-in. The reaction was about what we expected.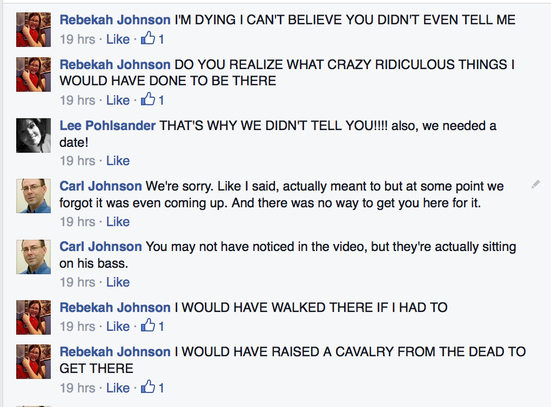 Anyway, had a lovely evening at an interesting venue, Union Transfer. Former furniture forwarding warehouse in a section of the city I'd not visited before. I'll admit that their warning only to park in their lot, and not in any of the others that might be pretending to be their lot, gave me a bit of concern, but in the end the neighborhood was just fine and the venue was great. (Nicest bathrooms of any rock club, ever.) Room for 300-400 people, maybe there were 250 there to see Imelda May tear it up in Philadelphia on a Tuesday night. The crowd pretty much looked like us, which could either mean that kids these days don't know anything about good music, or that they've all got other things they have to do on a Tuesday night. We don't. It was kinda cool.