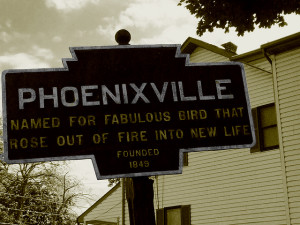 So, it's been more than a year in our new surroundings. If we're friends on social media, you already know that we're completely enamored of our new town. We can walk nearly everywhere. It's a short ride to the bike path (although road riding around here is not great). We're five minutes from great kayaking where motorboats can't go. There are great coffee shops and open mic nights with serious talent. We get into Philadelphia from time to time (visitors are surprised by the mustard). It's fantastic.
On the other hand, we're part of the disaster that is metro traffic and live in a town that isn't connected by rail. Some select bridge outages have made this the summer of whining around here, not without reason, and extensive roadwork has made things temporarily worse. Getting back and forth to Albany/Troy is either smooth as silk or rough as burlap, and then there was that one time when flooding in New Jersey made us those people who drive through floods and took more than 7 hours to make a five hour drive.  Getting to Worcester is never easy. Who knew there was so much Connecticut, and so many opportunities to enjoy it at zero miles an hour?
I determined after several summers of total dedication to renovations that this would be a summer of some level of fun, so not a lot got done on the house, but it is slowly turning into what we want it to be. We solved the problem of the sectional that was bigger than our living room, and got up some stylish shelves. The dining room table, made of beams reclaimed from an 1864 Troy building, is finally finished (well, the surface is. Still don't like the legs). Many books still need to leave, but since our local library doesn't do a used book sale, we're dragging our excess back to East Greenbush. Daughter's room got half-painted before she left again for school. Air conditioning was installed. There was less cycling than I would have liked, but considerably more canoeing and kayaking than we've been able to do in years.
Now, fall will be coming soon and we've got plans for painting, rearranging, lighting, and a crazy thought about what to do with a stair rail (so crazy it just might work). Hoping to get into all that soon.
But first, a quick trip back to the ALB.