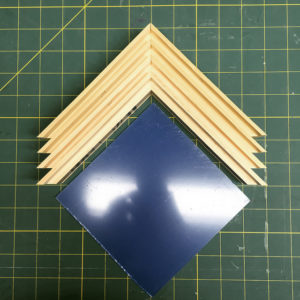 I've been working on a couple of pieces that I'd love to share here for quite some time, but then I've been working on pieces for Hoxsie that take up time, I've been watching the Giro d'Italia, I've been getting out on my bike, I've been not getting out on my bike. It's that time of year where we have a couple of great days in a row and get a million things done, and then it rains for a solid week and I get laid out with a serious cold. So here is what's up:
I spent maybe 20 hours getting my old table saw dialed in so I can reliably cut accurate miters for picture frames with it. Had to take the whole thing apart, replace a broken shim, clean out the case for the first time, then slowly slowly get it back into perfect alignment — which of course has to be checked every single time I set up a cut. I've resorted to a fancy device that tells me the blade's angle to the table, because eyeballing it with framing squares was not working at all. Finally got a good miter gauge, too, and a miter slot (this saw had a sliding table, which I'd categorize as "seemed like a good idea at the time"). All this means I can finally, with some reliability, produce some passable mitered corners that match up and glue up nicely.
Well, there's the Giro, which normally inspires me to get out and pedal except I've had my second major cold since Christmas and my sinuses are impacted with something as dense as silicone caulk, but also runny. And it has hardly mattered because it did nothing but rain for two weeks.
I have gone insane with the vinyl LPs lately. Lots of new, lots of old. Of an evening, I may move from the reissue of Elton John's "17-11-70" to some ancient Moody Blues to a pair of Tower of Power records that I never owned before. Apparently I own two Sade albums, and I like them! And my new copy of my favorite Ventures album, "The Ventures Knock Me Out," is in really sweet shape. Stylistically, consistency is not my strong point.
Speaking of music, April was insane for concerts. Dave Alvin, Aimee Mann, John K. Samson, and discovered some great new artists who opened, The Worriers and Sarah Borges. Plus, our local favorites were out and about. There was so much music.
Finally broke into Nathan Filbrick's "Valiant Ambition," a great look at what went on between George Washington and Benedict Arnold. I'm not a big military guy at all, but I am always down for a great account of the Battle of Valcour Island. It's always incredible to imagine how naval battles played out in a time when you couldn't necessarily put your ship where you wanted it to be, and had to rely on the wind. It mattered that the gigantic new warship the British built specifically to take over Lake Champlain was square-rigged – it meant it couldn't sail into the wind. Turns out: disadvantage!
Daughter shared with me her proposed playlist for songs she has to perform for her humanities practicum, and I've gotta say, I was a little choked up. My plot to deeply imprint my musical tastes on another human being has been a complete success! Also, it involves The Ventures. So just imagine. Somebody may be getting a Mos-rite bass for graduation.
Yes, the heat came on yesterday morning. Yes, it is going to be 87 degrees today.
I had the month of April in the impeachment pool. Sad that I lost.
No, I cannot get my theme to keep an ordered list in the same typeface that I prescribed for the rest of my posts. Thanks for asking.