A group of music friends got into a discussion: Does anybody still make mix tapes/mix CDs, or are there any from back in the day that they still play? That led to a flood of thoughts.
I really discovered music right around age 11, just around the start of middle school, with an AM clock radio set almost exclusively to the local Top 40 radio station, WTRY. AM only. Radio then was wildly diverse – just look at the top 100 for 1972: that was all playing in the Tri-Cities. When I fell into music, I fell into it hard – trips to Apex Music Korner, where sample 45s of the top hits of the week hung from wooden pegs, and you could take the listener over to a school-grade turntable and listen to it on a monophone pressed to your ear, just in case you hadn't convinced yourself you needed it yet. Fork over 79 cents, and it was yours.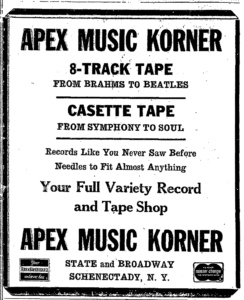 The radio ruled our lives – what was playing was everything. And of course, we couldn't afford to buy everything we wanted to hear, and you couldn't necessarily count on hearing what you wanted to, so we did the only thing you could do in those days – tape off the radio. I had, everybody had, a small portable cassette recorder with a built-in microphone that dutifully picked up the sounds of its own motor turning the compact cassette. Place it next to the radio, and wait to pounce on those buttons when a song you wanted to capture might be coming on. You had to listen closely – maybe the DJ would front announce so you'd know "Rock the Boat" was coming up. But probably not. As the commercial came to an end, you'd do the three-finger move: press "play" and "record" simultaneously, then immediately step on the "pause" button. But the pause buttons on those machines would only hold for a few seconds, so if an unexpected weather report came up, you had to back off, hit "stop," then be ready to start again. Get all set up, hear the DJ start his patter, try to pick out the first notes and decide if this was a song you wanted or not. We could all name that tune in no more than 3 notes, but the irony is those were the notes that usually got clipped off with this technique. Finally, catch a song you wanted to keep, listen through to the outro, and pop the stop button. At least at the back end, you could decide to back up a little and tape over the DJ's talk. Do this to capture 30 minutes to a side of the cheapest department store tape your mom could find, and you sort of had something to listen to.
When we had records we wanted to tape, it was only marginally less primitive. Maybe somebody had an external microphone that we'd put near the speaker. We'd talk up the records like the DJs did, trying to time talking all over the intro just right (what I now know they called "hitting the post"). We'd be able to put songs in an order that seemed to make some sense to us. Sometimes, we'd do it up Dickie Goodman style, fake interviews that would be answered with song snippets. We thought we were hilarious – I only wish any of them survived. It might be a real insight into the mind of a 14 year old suburban '70s white boy. Or just scary, take your pick.
It wasn't until college that I got a real tape deck. Bounced a check for it (by accident, honest – I paid up) the summer after my freshman year, figured out how to connect it to my hand-me-down stereo console with no auxiliary output (I recall the arrangement as questionable, but not a fire hazard), and started laying down mix tapes. This was around 1979, what may have been the dawn of the mix tape era. Good quality tape existed, and I could almost afford it. Taping off the radio was over (and for me, so was radio, pretty much). I was getting a decent record collection and learning more about music from hanging out at Desert Shore Records than I could ever learn from what passed for radio in Syracuse at the time. Those early tapes were mostly a mix of whatever I had bought most recently with a smattering of old favorites. I got a new amp/receiver/tape deck combination and suddenly, I could copy tapes. And give them to people. In terms of my concentrating on anything else, it was all over.
Making mix tapes became my obsession, and my stress relief. If I had a major project to get done, you could be sure I was working on a tape. Instead. Every one went through multiple versions, changes in songs and song order, decisions about whether there would be filler and bumpers, and selection of just the right Ventures song to fill the last spot (because you can always fade out on an instrumental). One of my tapes features an already sped-up version of The Ramones "Needles and Pins," with a crazy little spin-up at the end, partly for effect and partly because it almost fit on the tape, and I wasn't taking no for an answer. To this day, I expect to hear that at the end of the song.
The spine design became a whole other thing. I had access to presstype and, later, to actual typesetting equipment, so my covers could look slick as hell for the time. With the ubiquity of desktop design programs today, you'd give it no thought, but if I handed someone a tape with what looked like a seriously designed cover in 1988, it was something unusual.
There were many of these tapes. Most of them survived until just a few years ago, when I digitized them as best I could, copied the covers, and let them go because I was just not listening to cassettes anymore. But I carefully (and where did I get the time for this?) recreated every tape in a playlist on iTunes. In a lot of cases, those are the only versions of those songs in my library. I burned some of them to CD for listening to in the car (though the tapes were 90 minutes, and CDs were 72, which ruined some of the flow as some things had to go). And when the mood hits, I do still listen to them. Some are as ill-thought-through as I thought they were at the time; others feel like absolute perfection to me, and any time I hear a particular song, I expect the next song on the tape to follow. That's how it should be.

The tradition didn't stop entirely with cassettes. For a quick five minutes, I was doing the same on MiniDisc, the little portable format that was hot at a time when burning CDs was still out of reach for most of us. But it didn't stay out of reach long, and all the work I put into digitizing albums and making new playlists on MiniDisc was for naught. The cassettes stayed around longer. Once CDs became easy, I made a bunch of those, too, but by then I was deep into parenthood and work and all the things that keep me from giving what is now called a playlist the serious thought that it requires. So, sorry to say, these days when I want to mix it up, I tend to hit "Genius" on iTunes, see what it comes up with, make some edits to the playlist (or not), and leave it at that. For some things, like roots music, folk, and blues, it does a beautiful job, staying largely within style. For others, say, anything that was a '60s hit, it just returns a bunch of other '60s hits that have nothing to do with each other, so that's hopeless.
I want to do it again, to really have time to think about how one song flows into another, and to have the time to listen and appreciate the effort. Whatever it is, there's never enough time.