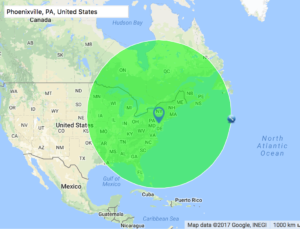 Boy, there was a time when it was simple … our families were all pretty much in one place, and there was no traveling for the holidays. Dealing with the Thruway between exits 23 and 25 was about as stressful as the traveling got. (Although, for a while, there always seemed to be a meeting I simply had to attend in NYC the day before Thanksgiving; that was not appreciated.) Now, most of our families are still all in one place, but we're not in that place, and neither is one of the daughters. So when the holidays happen, travel is mandated. Even by normal holiday standards, this one was heavy on the travel, and we put about 1160 miles on the car in five days. Of course, that wasn't in a straight line — that was up to Troy, over to Worcester, a slide or two or three to Schenectady, back to Worcester, back to Troy, and finally back home to Phoenixville, where we deeply appreciate our walkable lifestyle. But if it had been in a straight line – well, it would have taken us farther north than I've been, beyond James Bay (where I have been). A tilt to the east would have taken us well into Newfoundland. Due east would have sunk us in the ocean, though to the south we'd have reached Cuba. To the west, we'd have reached Nebraska. So, that's some miles.
Despite the miles and hours in the car, we got to spend some good time with family, and good time with not-family. For a number of years we have enjoyed a tradition created by some wonderful friends who host a host of people for Thanksgiving in the woods – once you think about it, it seems like the only thing that makes sense. A hundred or more people hike a half-mile into a space in the woods where a core of volunteers has organized a wonderful little space for us all to break bread together. We sing in something that in no way resembles a circle, we eat in the open, we gather around the fires and sing some more. Some years are coldish, some years are colder, some years it snows. We stay until our feet are cold and then we hike on out, lungs full of fresh cold air and ready for a significant nap. It's wonderful.
Another great tradition for this holiday weekend is to spend as much time as possible in Troy, and it was particularly satisfying to see so many, many people shopping downtown on Small Business Saturday. Had we remained in the Capital District, there is little question we would have tried to end up in Troy, and we're so glad to see it continuing to grow. There is an unmatched variety of shops in the Collar City, and it's entirely possible to do ALL your Christmas shopping at the shops and the Farmer's Market, and in so doing you'll come up with things you would never have thought of giving. This Sunday is the 35th Victorian Stroll, so if you haven't been to Troy recently, and you want to see it dressed in its most charming clothes, this is your chance.