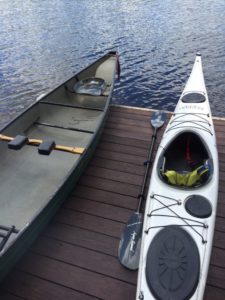 Second year in a row of giving into certain realities with regard to vacation – where we want to be is a long way from here, weather in the Adirondacks is often cruel, we are old and may have spent enough of our lives being wet – and renting a lakeside cottage in the Fulton Chain of Lakes, rather than tenting. Since last year, we've had a plan to drive up with an empty kayak rack and go back home with at least one new boat from MountainMan in Old Forge, and to get rid of the monstrously heavy tandem kayak we bought when the kids were little. Just as that plan was being executed, a friend said he'd be selling his super light carbon kayak, which sounded even better to me than some of the boats we'd been researching. With a small side trip to the foothills, we could pick it up on our way north. Long, stiff, and light – I nearly threw it up into the rack. So we went to camp with that and our old faithful tandem canoe, which also isn't getting any lighter but which we've had for 27 years.
Upside of a really efficient touring kayak: it's really efficient. Downside: the inexperienced kayaker (such as someone who has previously used a wide-open tandem) will quickly become experienced. That means wet. The cockpit is super-tight, so getting in and out requires some special skills, skills that I'm still developing. It's also super-narrow, which it turns out meant it's not a good fit for my wife. But once in it . . . paddling is almost zero effort, and control is amazing. So we figured we'd executed the plan for this year: buy one boat, get rid of another, hold onto the two canoes.
Of course, we needed some additional gear, so we ended up at MountainMan anyway, and there got to look over one of the boats we had been planning on looking over. Then we got to sit in it. Then we got to test paddle it. Then we bought another boat, one that much better suits the better half and is still light and quite fast.
For those keeping track, that means we drove up with a wide-ass canoe, and were going back home with that and two more boats. That was asking a lot of my roof rack. Luckily, in one of those weird developments that I never saw coming, we're now those people whose adult children come to join in on part of the vacation, along with their significant others. That's delightful, by the way. We had a fire, we paddled together, we watched movies together. But most importantly, one of the daughters conveniently had a kayak rack on her car. So, another side trip on the way home, a borrow of some real estate from my mother to store the canoe for a few weeks, a transfer of one of the new kayaks, and off we went.
So that was this year's plan – go on vacation, come back with a new boat. By any measure, we overachieved our goal. Along the way, elder daughter became excited/interested in paddling the Adirondack Canoe Classic, and we were probably lucky that the deadline for this year's event had already passed. By no coincidence, this is an event that has been a goal of mine since the '80s, and which I've never really been in a position to train for or participate in; it's also one I've always had an inkling that I'd love to do with one of my daughters, both of whom have been on the water their entire lives. And now one of them wants to do it. But the level of preparation – make no mistake, this is a serious distance. 90 miles in three days, with 5.25 miles of carry. You carry all your gear (or have a support vehicle meet you at the landings, but it's all on you). On one of the vacation days, I did a nice eight mile trip (and was only nearly tossed from the boat twice) – so if I could just do four times that distance for three days in a row, I figure I'm all set. I'm scouting training locations now, because that's a scary commitment.
By the way, first time in years I've gotten ready for and gone on vacation without having the old Go-Go's song "Vacation" get stuck in my head . . . oh, there it is. All is right with the world then.