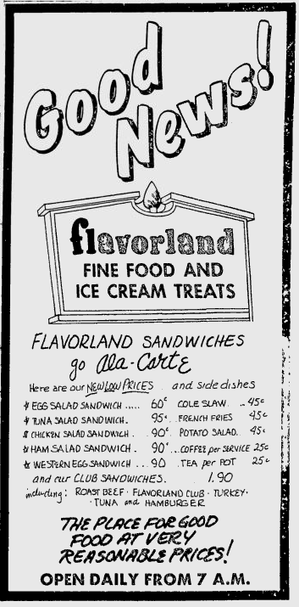 Ran across this ad for Flavorland in a Schenectady Gazette from 1977.
Flavorland was pretty much the same as Friendly's, slightly upgraded
diner food and an extensive ice cream menu. It must have been a chain or
franchise; I remember the one at Mayfair (or was it the neighboring
Willowbrook) on Route 50 in Glenville, one of the earliest of the
suburban strip plazas. But there were locations on Altamont Avenue, I
think on Nott Street, and probably a couple of other places. Whether it
was just regional or national, I haven't learned, and I don't know when
it died out, though it seems as if several of the locations became
Friendly's. Don't know much more about it, but seeing that old logo (which was exactly how their sign looked) brought me back.