Let's make it clear: I despise wall-to-wall carpet. It just captures dirt and dust and can't ever really be cleaned. I especially despise beige carpet. I super especially despise beige carpet padded so thick you feel like you're walking on a pillow. And that was what we had on the stairs (where it really constitutes a balance hazard) and in the upstairs hall – I'd already torn it out of the bedrooms. The stairs, I started in on renovating about this time last year. It took a while, but I did get it done. The upstairs hallway was next.
Partly we were inspired by what we wanted to put there: a rug. Not just any rug, but a custom-made knit rug sized exactly to fit in our long, narrow hallway. We were wandering around Kathleen's Fiber Arts in Troy and were enamored of some small wool rugs she had knit, and thought how nice it would be to have one of them in our hall – only, you know, longer. Turns out, not a problem. She was most happy to do a custom job for us. Now, having someone knit you a rug is not cheap, but we thought of how much more we would like it than anything else we could possibly find. Some commercial remnant? Two runners shoved together? It just made more sense to get what we really wanted. So we ordered it, and aimed to have it done in time to be our Christmas gift to ourselves. So it was.
That meant, of course, having to get the old carpet out and refinish the floor, which is always a leap of faith in a 116-year-old house. There was no telling what was underneath the carpet. The stairs hadn't gone too badly, although the entire house is floored in pine, but when I took up the carpet in the main bedroom, there were some gaps between boards, and a gigantic former stovepipe hole that had to be addressed. So, in the hallway, who knew.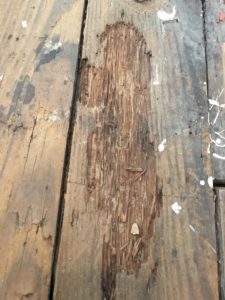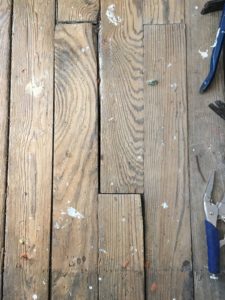 But it turned out not to be too bad. I mean, of course there were 400 million staples that had to be pried up, one at a time. There was one little place where some rot had happened at some point. There was some unevenness, and some boards that needed to be screwed down.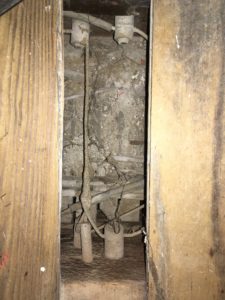 Sometimes, it's better not to know. I lifted up one of the loose floorboards just to see what was underneath, and found the dry skeleton of old knob and tube wiring that apparently traveled in the floor space way back when. I put the board back, and quickly.
Oh yeah, there was a gap.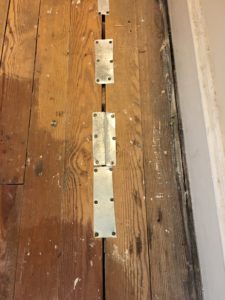 Held together by screwed-in bits of sheet metal. (Drywall screws, predictably.)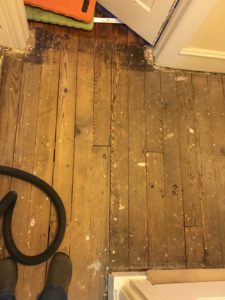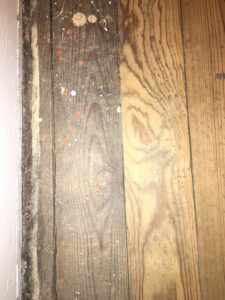 As messy as it was, a little (or a lot) of sanding and it didn't look too bad.
Four coats of Minwax oil-modified water-based polyurethane later, and it looked pretty good:
So, finally, with the rug (very soft on the bare feet, by the way) in place: