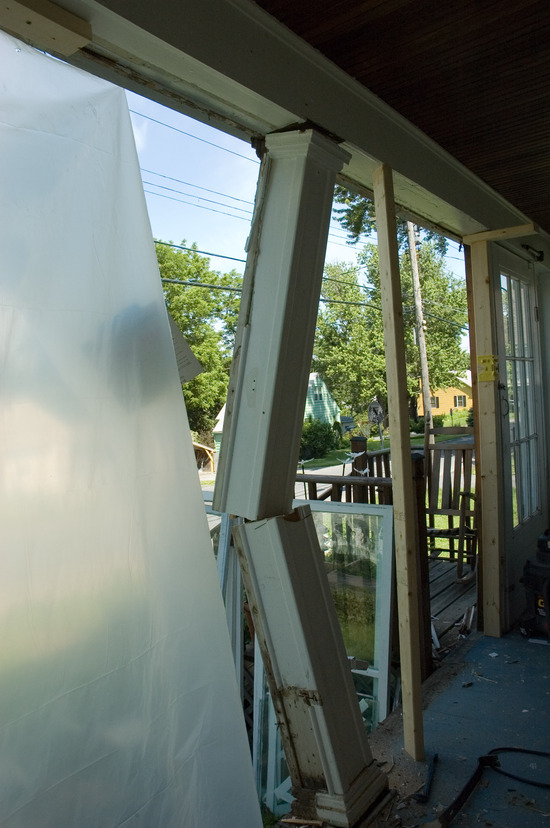 I'm never sure whether to thank or curse my father for whatever he taught me about carpentry. My mother's father and grandfather were carpenters, my father was a carpenter for a period of time, and all through my life, if something needed doing on the house, we did it ourselves. So I'm cursed with just enough knowledge to believe I can do almost anything myself (except I know I'm bad with concrete), just enough skill to get by (though in my sixth decade, I'm almost good at it), and a hatred of paying contractors outrageous rates to do something I can do myself. So when estimates for replacing our 72-year-old porch came in somewhere in the stratosphere, my wife asked, "Well, can you do this?" Uh, yeah. Sorta.
The challenge with house carpentry is that if you don't do it all the time, you don't really know how to do it. You just know how to figure it out. Figuring it out takes a lot longer. And because it's my house, and my yard, I'm way more careful about the demolition part, especially the millions of nails and shards of glass that come from demolishing a glassed-in porch. I'd like to walk in the yard again someday, so I have to try to be careful about where the pointy stuff lands. (Can't get that from a contractor).
A few minor technological revolutions have made this vastly easier than any other project I've undertaken. First, let me sing the praises of the laser-guided chop saw. Somehow I've gotten by for more than 20 years of home ownership without a chop saw, and no, I don't know why, but man am I glad I have one now. There is a little red laser light that tells me precisely where the blade will cut. It is unbelievable. If I make a mistake, it is only in measuring, no longer in figuring out where the kerf will be. No need to get out the square and draw a cut line — just find the right measure, mark it, line it up with the laser, and chop away. Not to mention that I get the perfect square cuts that always seem to elude me on the table saw.
Second, I finally invested in a new tape measure with engineer's marks. This means it's in English measures, but provides decimal fractions of feet. Instead of having to figure out English fractions (and divide them, which is always the challenge), I measure something out as 4.1 feet. Still in feet, with the easy math of metric. Flaming brilliant. (Though I will ask, why have all tape measures gotten so thick? The smallish-handed among us can hardly maneuver the things.)
Third, I invested in a new Milwaukee drill/driver, with the hope that when its batteries can no longer take a charge I'll be able to get replacements . . . which has not been true for the past two Craftsman drills I've had. And not only does this magnificent device show me how much charge is in the battery, it shines a brilliant LED light right on the space I'm drilling. Suddenly, I can see what I'm doing as soon as I put up the drill, instead of having it block the light. So obvious, so brilliant.
Last but not least, the very process of ordering the major parts, doors and windows, has become considerably simpler because you can download all the dimensions and specifications from the internet, figure out your spacing and what will fit there, and start to draw up your plans before you even set foot in the home improvement store. When you order windows every decade or two, it's a bit of a daunting task, but being able to read through all the specifications and installation instructions makes it much easier.
So if you don't hear from me, it's because I'm lashed to my laser-guided chop saw.